Ibland brukar jag känna mig maktlös. Det är så många saker som verkar viktiga så jag vet inte vilka jag skall börja med. Jag är säker på att alla känner så lite då och då.
Jag brukar använda mig av tricket att fråga mig: Hur äter man en elefant? Jo bit för bit.
Men det finns andra metoder. Alvin Soon använder sig av en metod som kan beskrivas som: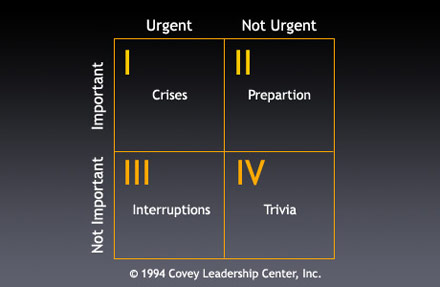 Han beskriver de olika kvadranterna och säger sedan:
It's obvious we should be spending most of our time in Q1 & 2. Spending too much time in Q3 and Q4 robs you of your time, gives you stress and saps your ability to perform in real Q1 and Q3 activities.
Alvin Soon visar också hur kvadranterna kan få ordning på ditt liv.
Fråga dig själv vilken roll du spelar.
We all play several roles in our lives. I could be a brother, employee, writer, martial artist, coach, friend, lover, artist, son, depending on where I am, what I'm doing and whom I'm with.
What are the roles current in your life?
List them out. Now, looking at each role, ask yourself; what's the most important thing you could be doing for this role?
Tänk sedan efter vad du vill uppnå och definiera lämpliga mål. Bryt ner målen i aktiviteter och tidsätt dessa. När du sedan genomför aktiviterna är detta ett exempel på hur du flyttas från Q3 och Q4 kvadranterna till Q2 kvadranten, där du skall vara den mesta av din tid.
Doing these simple steps will also get you feeling more relaxed and at flow. But if you still feel stressed from the daily grind, in my next post I outline a way for you to unload your anxiety.